If you've ever done any customization work on a doll, you know how nerve wracking it can be.  One of the most fear inducing things you can do is face paint work on a doll.  You have to work quickly and if you make a mistake, wipe it off before it dries.  Not too difficult for say a mole, or on the lips.  But around the eyes…that is when things get a bit scary.  I've done two dolls where I've added just a few extra eyelashes with paint and I've been pleased with the results.  However, it's not one of my favorite things to do and the reason why Fiona and Allie have only a few extra eye lashes to give their eyes more definition.
I follow Jen from "Mini Mad" on Instagram and she showed where she recently added eyelashes to one of her dolls using sticker sets from Little Bitty Hearts and they looked incredible!  I decided I had to get a set to try them out.  I ordered the Deluxe Removable Eyelashes in brown.  I had them very quickly, within days of ordering.  And then I had to decide who was going to be my guinea pig…
After a bit of debate, I finally decided for several reasons it was going to be Mimi.  First off, with her short hair, she frequently gets mistaken for a boy.  And, since she is my mini-me, it would be accurate as I had very big eyes with fairly long eyelashes when I was a kid.
They come as a sheet of stickers, you get four complete sets.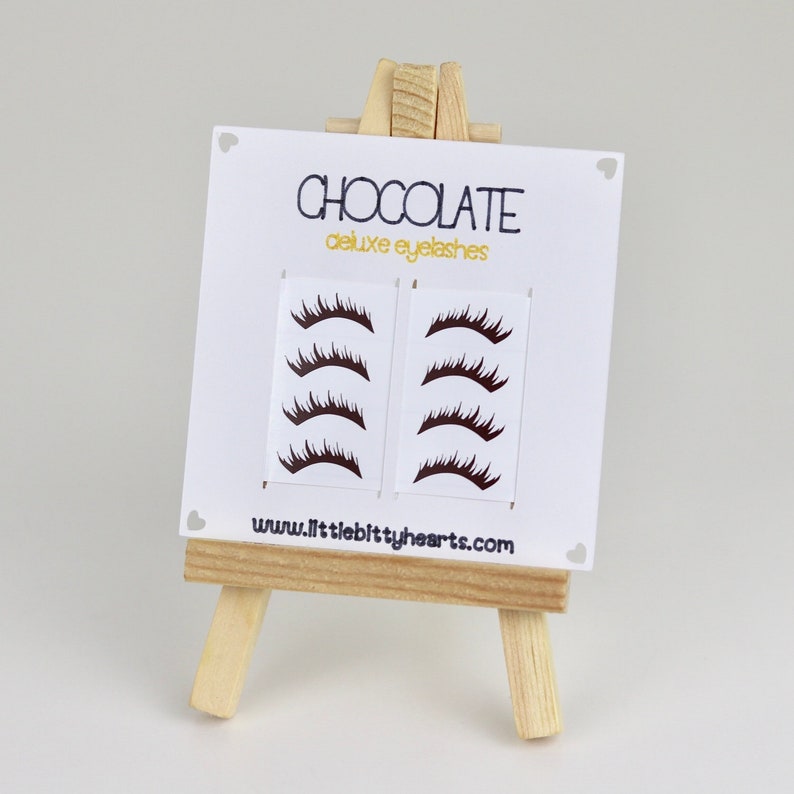 Application is very easy, they simply peel off from the backing sheet and you place them on your doll.  I used a pair of craft tweezers I had so that the oils in my hands didn't affect the adhesive.
I like the brown, it's not as "in your face" as black would be, much more subtle look.  The hardest part was keeping Mimi's hair out of the way!  I would definitely recommend putting a headband on your doll with the hair pulled out of the way.
I think she looks great!
Definitely gives her a much more feminine look.  Good part is that they are stickers, so if somewhere down the road I didn't want her to have them anymore, removal would be relatively easy.  I guess some people have taken them off and reused them on other dolls, etc.
Here's a before and after (photo of Mimi shortly after I'd received her, she didn't even have her mole yet!):
I definitely like these, and now I had three sets left to use on someone else.  Hmm…I wasn't sure who was going to get the next round.  I have an idea in the works for something I'm working on that these would be perfect for.  I thought about putting a set on Kira, but then when I looked at her eyes, the Kaya mold has a crease just above the eye opening, not sure how well they would stay on with that.  So maybe not.  But then I went back into the website and she had an Addy doll with them on and she has the similar crease above her eye.  Oh, why not, let's try it!
I like it!  After on the left, before on the right.  She's cute either way, and I can at least easily take them off if later on I decide I don't like them.  I do wonder if maybe she would look better with the black version as they would pop more, but I also like the subtleness with the brown.  I definitely don't want her to be a "glam" sort of doll, doesn't fit her personality!
One little bit of advice I personally would give, if you are doing these to a doll that has been heavily played with, you might want to use a cotton swab with a little bit of rubbing alcohol on the area before putting the stickers on to be sure it's clean of any residue.  I had no issues with mine not wanting to stick on either doll I did, but both are not dolls that I've been touching tons, especially around the eye area.
Be sure to check out the website, there are so many other cool things there too, not just doll eye-makeup!!!  Go to LittleBittyHearts.com